For the last (18) years, large Californian waste generators trusted Ocean Blue for their waste management. These generators include:
Ports of Los Angeles
Port of Long Beach
Port of San Diego
City of Long Beach
City of San Diego
Los Angeles County
United States Coast Guard
We understand the long term liabilities & risks associated with waste handling, packaging, transportation, storage, recycling and disposal of hazardous and non-hazardous waste. Our trusting relationships set us apart from competitors.
Since 1994, we have been a registered hazardous waste hauler. Our Industry is one of the most regulated industries in the United States. Strict laws & stiff penalties are assessed from site inspections. Unfortunately willful violations are high in this industry. However, Ocean Blue has never been in violation of DTSC, EPA, OSHA, Department of Homeland Security or any other regulatory agencies regulations. We encourage you to verify our status at the CA DTSC Website.
We have extensive experience working with regulatory agencies. On a daily basis we work with:
United States Coast Guard Long Beach / Los Angeles Sector MSO Office
The Department of Fish & Game
Environmental Protection Agency
LA County Health Haz Mat
Local fire & police departments
Ocean Blue regularly services Septic Tanks & responds to Septic Tank overflows.
Ocean Blue is a full hazardous waste management service company. Our service is our main concern, and our profits are derived from providing excellent service to our clients, not from disposal fees. Ocean Blue is not owned by, nor owns a TSDF, and does not have an agreement with any TSDF to exclusively deliver waste to a specific site. Since we are not limited to any specific TSDF, we can help our clients choose the disposal or recycling facilities that best fit their needs. Furthermore, we will always choose the most environmentally friendly solution whenever possible. In choosing an appropriate TSDF, Ocean Blue considers the following:
• Client's disposal requirements
• Disposal facility compliance and financial stability
• Disposal methods offered
• Pricing
• Facility inspection and audit results
Over the years, the California Department of Toxic Substance Control closed many well-known hazardous waste disposal sites that later became EPA Superfund sites. Ocean Blue is very careful about inspecting every Treatment, Storage and Disposal facility (TSDF), and never sent any client-generated waste to these facilities. Although many fully-permitted TSDFs are based in Southern California, Ocean Blue maintains a preferred TSDF list, eliminating those with liability risks and questionable operating standards. Ocean Blue provides the most current computerized Hazardous Waste Tracking system. This system allows the client to track waste streams, profiles and quantities. This information helps the client in its State of California biennial reporting requirements, or in its Board of Equalization estimated taxes for hazardous waste generated.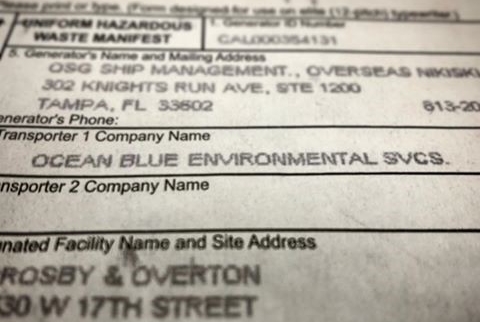 Record Keeping: Ocean Blue ensures proper documentation & security for all our clientele. All formal documentation—including bills of lading, manifests, invoices—are securely kept for a 3-year minimum. All manifesting and/or disposal paperwork will be properly recorded and sent to the appropriate regulating agency.